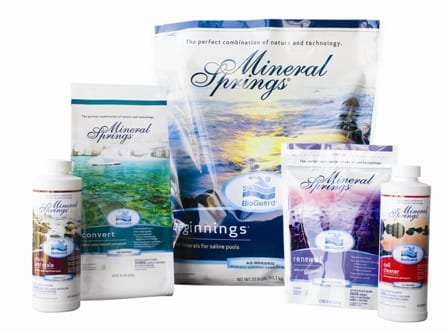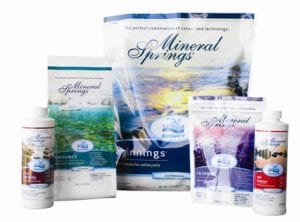 Forget about mixing, measuring or messing around with liquid or tablet chlorine again. Say goodbye to red eyes, itchy skin, heavy chemical odors and unwanted bleaching of toys and clothes. There's an easier, more efficient and cost-effective way to satisfy 100% of your pool and spa's sanitation needs and enjoy water that's always clean, clear and luxuriously soft.
Pride Pools, Spas & Leisure Products offers two types of salt chlorination: Aqua Trol/Aqua Rite and The IntelliChlor.
The Aqua Rite™ is the easiest way for you to sanitize your pool, and keep your pool crystal clear and silky smooth! The Aqua Rite™ uses common salt (the same salt used in water conditioners) and converts it into "free" chlorine. The chlorine sanitizes your pool and then reverts back into salt. That's right, the salt is recycled and never wears out. With only a teaspoon of salt per gallon, the Aqua Rite™ produces enough fresh chlorine (up to 1.45 lb per day) to keep a 40,000-gallon pool sparkling clean without the chlorine smell.
The Aqua Trol® chlorine generator designed specifically for the above ground pool. Your pool's water quality will be unmatched with the Aqua Trol system. Now you can have crystal clear, silky smooth water at an affordable price. Our AquaTrol® chlorine generator takes a low concentration of common salt in the pool water and converts it into chlorine without all the harsh side effects. No more red irritated eyes, dry itchy skin, or chlorine smell. The Aqua Trol® has a built in time clock that allows you to control your filtering time and your chlorine production saving money by reducing filtering costs and never buying chlorine.
The IntelliChlor® Salt Chlorinator is the easiest, most effective, and convenient way to keep your pool water sparkling clean and sanitized. The IntelliChlor® Salt Chlorinator uses table salt to produce all the chlorine your pool needs, right in your pool – safely, effectively, and automatically.
Features:
Full diagnostic capabilities, including cell life tracking that communicates remaining hours of cell life in real-time. Captures all performance data daily (production settings, hours of operation, chlorine output, cell cleaning cycles, salt readings, and water temperature averages)
Push-button operation and easy-to-view displays enable fast checking of salt levels, cell cleanliness, sanitizer output, and water flow
Automatic shut-off feature protects the unit and prolongs cell life under low water temperature conditions
On-time cycling prevents calcium and scale build-up to maximize cell life
Optional Product: Mineral Springs Beginnings
A natural way to automatically sanitize pool water with scale inhibitors that help to prevent scale and protect your equipment. Beautifully clear, brilliant, luxurious water that won't irritate eyes or dry skin. Stabilizers prevent free chlorine residual degradation from sunlight.
Optional Product: Mineral Springs Renewal
Weekly applications of Renewal replenish mineral levels in the pool and protect the system, keeping the water balanced and feeling great. Contains filter aid and helps in maintaining crystal clear water. Includes chelants and scale inhibitors which helps prolong the life span of your chlorine generator.